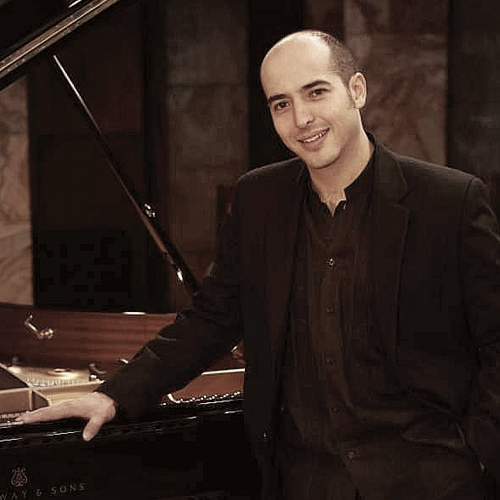 Rodolfo Ritter
Emerging as one of the most remarkable musicians from Latin America, and known for his profound artistic poetry, flawless technique, and charismatic performances, Rodolfo Ritter has performed to critical and audience acclaim on three continents.
Co-founder and Artistic Director of Novo-Forte Cultura, one of the foremost cultural Latin-American institutions, and the artistic comité at the Société Franz Liszt de Genève, Mr. Ritter is a sought-after pianist, composer, and pedagogue. Of Mexican-German origin, Mr. Ritter has been invited as a guest professor at the Haute École de Musique de Laussane, Haute École de Musique de Genève, Conservatoire de Musique de la Broye, Conservatoire du Gros-de-Vaud, and Universidad Panamericana, among others.
After a highly successful debut with the National Symphony Orchestra of Mexico in 2003 with the Brahms Piano Concerti, Mr. Ritter started a vibrant career as a soloist at venues such as the Salon d'Honneur of Les Invalides in Paris; Liszt's Altenburg house in Weimar; Konserthus in Copenhagen; Palacio de Bellas Artes, Sala Nezahualcóyotl, Museo Nacional de Arte, Sala Roberto Cantoral, Palcco, Teatro Degollado, Teatro Juárez, Teatro Calderón, and Teatro de la Paz in Mexico; Salle Frank-Martín and Salle des Abeilles in Genève; and on tour through Northern Italy with the Orchestra Strumentale Italiana. Rodolfo Ritter has also performed extensively in Spain, the United States, Austria, Germany, Spain, Denmark, France, Italy, Israel, Canada, Cuba, and Ecuador, among other countries.
Mr. Ritter's full commitment to discover and program works from neglected master composers from the past and introduce them to modern audiences has been achieved through the performance and recording of a number of world premieres. This, together with the frequent performance of standard works, provides a vast repertoire of more than 40 piano concertos and 30 solo piano and chamber music pieces. Launched in 2017, Mr. Ritter's first CD, devoted to the great Russian-Swiss composer Paul Juon, received much praise and was also included in the Top 10 recordings by Toccata Classics on Spotify® of the same year. This CD is the first of a series of recordings that includes the world-premiere recording of integral works for solo piano by Juon. Future recordings will include piano solo works by the German Romantic composer Woldemar Bargiel and the complete solo piano works by the Mexican composer Manuel M. Ponce for the Dutch label Piano Classics.
Winner of the Gold Medal and First Prize in the Angélica Morales-Yamaha Piano Competition in 2003, one of the most renowned competitions in Latin America, Mr. Ritter is the only pianist in the history of the competition to win the Gold Medal and all the special prizes. In the same year, he was also winner of the First International Piano Competition Parnassós 2003, as well as the prize given by the audience.
Mr. Ritter's performances with orchestras include a vast repertoire ranging from Bach's Well-Tempered Clavier to the complete piano concerti of Brahms, Chopin, Rachmaninoff, and Béla Bartók to romantic, modern, and contemporary lesser-known works such as Xaver Scharwenka's Piano Concerto Op. 32; Martinů's Double Concerto for Two String Orchestras, Piano, and Timpani; Stravinsky's Concerto for Piano and Wind Instruments; and the premiere of works dedicated to himself such as "Valses Romántico" and "Rapsodias Mexicana" by Gustavo Morales; "Alegoría de la Ausencia" by Horacio Uribe; "Folía Variations" by Jorge Vidales; and Concerto for Piano and Orchestra, "La Luna y la Muerte," by Spanish composer Miguel Galvéz-Taroncher. The last work was a First-Prize winner at the prestigious Queen Elisabeth Composition Competition in Brussels, and later the compulsory work for the piano competition in 2007. 
As a frequent soloist with more than 20 orchestras including the Mexico National Symphony Orchestra, Minería Symphony Orchestra, Estado de Mexico Orchestra, OFUNAM, Xalapa Symphony Orchestra, Aguascalientes Symphony Orchestra, San Luis Potosí Symphony Orchestra, City of Mexico Philarmonic, Bellas Artes Chamber Orchestra, and Orchestra Strumentale Italiana, among many others, Mr. Ritter collaborates regularly with distinguished conductors and colleagues such as Moshe Atzmon, Massimo Quarta, Marco Parisotto, Iván López-Reynoso, Enrique Bátiz, Enrique Diemecke, Juan Trigos, Silvain Gazancon, Fabrizio Ficiur, José Miramontes Zapata, Román Revueltas, Gaétan Kuchta, Rodrigo Macías, Jesús Medina, Ramón Shade, José Guadalupe Flores, Miguel Salmon Del Real, Guadalupe Parrondo, Goran Filipec, Francisco Araiza, Peter Svensson, Tambuco Percussion Ensemble, Cuartetos Latinoamericano, and Carlos Chávez, among others.
Mr. Ritter's recordings on the Swedish label Sterling CD have received much praise by some of the most prestigious international publications, particularly the first and second volumes of the Mexican Romantics Anthology devoted to the piano concertos of Manuel M. Ponce and Ricardo Castro.