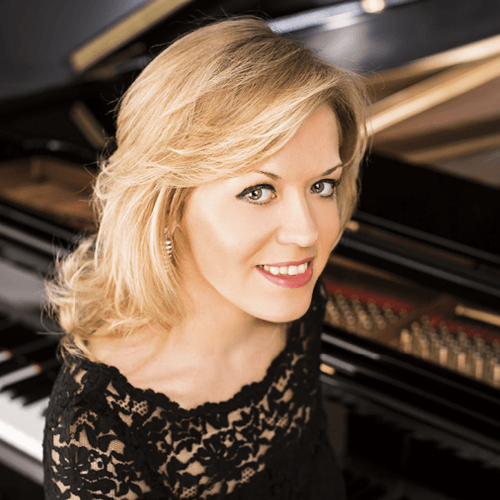 Olga Kern
Olga Kern is recognized as one of her generation's great pianists.
With her vivid stage presence, passionately confident musicianship, and extraordinary technique, the striking pianist continues to captivate fans and critics alike. Olga Kern was born into a family of musicians with direct links to Tchaikovsky and Rachmaninoff and began studying piano at the age of five. She jumpstarted her US career with her historic Gold Medal win at the Van Cliburn International Piano Competition in Fort Worth, Texas–the first woman to do so in more than thirty years.
Steinway Artist and First-Prize winner of the Rachmaninoff International Piano Competition at the age of seventeen, Ms. Kern is a laureate of many international competitions and tours throughout Russia, Europe, the United States, Japan, South Africa, and South Korea. The first Olga Kern International Piano Competition has been announced to take place in Albuquerque, New Mexico, in the fall of 2016, where Ms. Kern will serve as Artistic Director and President of the Jury. Ms. Kern is a corresponding member of the Russian Academy of Sciences, Division of the Arts. In June 2016, she will be the Jury Chairman of the Seventh Cliburn International Amateur Piano Competition.
Ms. Kern's performance career has brought her to many of the world's most important venues, including the Great Hall of the Moscow Conservatory, Symphony Hall in Osaka, Salzburger Festspielhaus, La Scala in Milan, Tonhalle in Zurich, Avery Fisher Hall and Carnegie Hall in New York, and the Châtelet in Paris. She has appeared as a soloist with the Mariinsky Theatre Orchestra, the Bolshoi Theater, the Moscow Philharmonic, London Symphony, St. Petersburg Academic Symphony, Russian National, China National Symphony, Stuttgart State Orchestra, La Scala Philharmonic, Royal Scottish National Orchestra, Torino Symphony, and Cape Town Symphony Orchestras. Ms. Kern has also collaborated with the most prominent conductors in the world today, including Leonard Slatkin, James Conlon, Marin Alsop, Valery Gergiev, Pinchas Zukerman, Christoph Eschenbach, Antoni Wit, Manfred Honeck, Constantine Orbelian, Giancarlo Guerrero, and Vladimir Spivakov.
Ms. Kern opens the Baltimore Symphony's 2015/2016 centennial season with Marin Alsop. Other season highlights include returns to the Royal Philharmonic with Pinchas Zukerman, Orchestre Philharmonique de Nice with Giancarlo Guerrero, Rochester Philharmonic and San Antonio Symphony, a month-long tour of South Africa for concerts with the Cape and KwaZulu-Natal Philharmonics, an Israeli tour with the Israel Symphony, solo recitals at Sarasota's Van Wezel Hall, New York's 92nd Street Y, and the University of Kansas's Lied Center, and recitals with Renée Fleming in Carnegie Hall and Berkeley.
In the 2014/2015 season, Olga performed with the NHK Symphony in Tokyo and Osaka, the symphonies of Detroit (playing all three Tchaikovsky Piano Concertos for an eponymous festival honoring the composer), Nashville, Colorado, Madison, Austin, Mobile, and Santa Rosa, the New Mexico Philharmonic, in addition to giving recitals in Seattle and Louisville as well as alongside soprano Renée Fleming in Boston and Washington, D.C.
In the 2013/2014 season, Olga performed with the symphonies of Cincinnati, Detroit, and Pittsburgh, the New Mexico Philharmonic, the Orquestra Sinfônica do Estado de São Paulo, and presented recital programs in New York, San Francisco, Vancouver, Orange County (CA), and at the Van Cliburn Foundation. She also performed alongside Vladimir Spivakov and the esteemed Moscow Virtuosi in Avery Fisher Hall in New York City.
In the 2012/2013 season, Olga performed with the Symphonies of Nashville, Pittsburgh, Detroit, and San Diego and performed in recital in St. Louis, Dallas, Scottsdale (AZ), and at Lincoln Center in New York City as part of the Cherry Orchard Festival.
In 2013, for a celebration of Rachmaninoff's 140th year, Olga Kern performed all four Piano Concerti and the Rachmaninoff Rhapsody on a Theme by Paganini in collaboration with Leonard Slatkin and the Orchestre National De Lyon. Ms. Kern has also performed this special program in South Africa, Warsaw, and with several orchestras across the United States. In 2012, she was invited by director Steven Spielberg to perform for the Shoah Foundation's annual gala in Los Angeles.
Other past seasons in North America have seen Olga perform with the Symphonies of Chicago, Houston, St. Louis, Dallas, Baltimore, Vancouver, and with the Los Angeles Philharmonic at the Hollywood Bowl. She has presented recital programs in the most esteemed concert halls and alongside artists such as soprano Kathleen Battle at Carnegie Hall and soprano Renée Fleming at Kennedy Center. In February of 2012, Olga made an extensive recital tour of North America with violinist Vladimir Spivakov.
Recent international appearances have included tours of Austria, Italy, and Switzerland with the Warsaw Philharmonic and Maestro Antoni Wit; a tour of Germany with the Czech Philharmonic and Maestro Zdenek Maçal; performances with the Orchestras of Academy of La Scala in Bad Kissingen, Copenhagen and Lyon, and recitals in Milan, Paris, Hamburg, Luxembourg, Reykjavik, Bucharest, and Zagreb. She made her London debut with the Royal Philharmonic Orchestra in 2006 followed by her Proms debut in 2008. Ms. Kern has performed recently with the Seoul Philharmonic, Taipei Symphony, and in Mexico, Peru, Columbia, Egypt, Morocco, Turkey, Chile, Israel, as well as at the Sangat Chamber Music Festival in Mumbai, India. In June of 2002, Olga Kern made an extensive tour of South Africa where she returned to tour again in February of 2005 with her brother, Vladimir Kern, conducting. Ms. Kern was the Artistic Director of the Cape Town Festival in South Africa from 2006 until 2011 and returns there annually.
Ms. Kern was the recipient of an honorary scholarship from the President of Russia in 1996. She studied with Professor Sergei Dorensky at the Moscow Tchaikovsky Conservatory, and Professor Boris Petrushansky at the acclaimed Accademia Pianistica Incontri col Maestro in Imola, Italy.
In addition to performing, Ms. Kern devotes her time to the support and education of developing musicians. In 2012, Olga and her brother, conductor and composer Vladimir Kern, co-founded the "Aspiration" Foundation whose objective is to provide financial and artistic assistance to musicians throughout the world. Ms. Kern lives in New York City with her son, Vladislav Kern, who studies piano in the Juilliard School's pre-college program.
Ms. Kern's discography includes Harmonia Mundi recordings of the Tchaikovsky Piano Concerto No. 1 with the Rochester Philharmonic Orchestra and Christopher Seaman (2003), her Grammy-nominated recording of Rachmaninoff's Corelli Variations and other transcriptions (2004), a recital disk with works by Rachmaninoff and Balakirev (2005), Chopin's Piano Concerto No. 1 with the Warsaw Philharmonic and Antoni Wit (2006), Brahms Variations (2007), and a 2010 release of Chopin Piano Sonatas Nos. 2 and 3 (2010). Most recently, SONY released their recording of Ms. Kern performing the Rachmaninoff Sonata for Cello and Piano with cellist Sol Gabetta. She was also featured in the award-winning documentary about the 2001 Cliburn Competition, Playing on the Edge, as well as Olga's Journey, Musical Odyssey in St. Petersburg, and They Came to Play.
"Sheer talent does not come more transparently."
Bryce Morrison, Gramophone
"Call it star quality—music likes Kern the way the camera liked Garbo. Her electricity at the keyboard is palpable, and though she generates it from the music itself, as it flows through her fingers, it takes on fresh voltage that is unmistakably hers."
Ronald Broun, The Washington Post
Olga Kern is the Artistic Director, President of the Jury, and a Founder of the Olga Kern International Piano Competition.