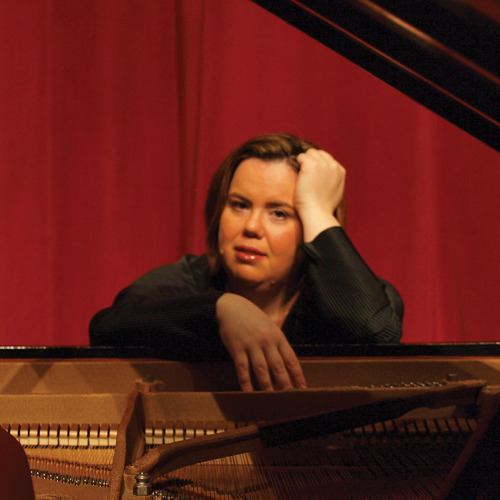 Daniela Mineva
Hailed by critics as a "vibrant and expressive performer who could steal the show in every concert" (The New York Times) and "energetic and lively pianist who displaces power and delicacy in nuanced sensitivity along with virtuoso technique" (The Baltimore Sun), Daniela Mineva's unique approach to standard repertory, combined with the performance and dedication of works by living composers, has taken her career throughout Europe, Asia, and North and South America.
Daniela has been the winner and finalist in numerous international and national competitions, including the 2007 Jean Francaix Piano Competition in Paris, France; the 1998 Steinway International Piano Competition; and the Music and Earth International Competition in Sofia, Bulgaria, among many others. During the 2007 International Piano Meeting Festival in San Daniele, Italy, she was awarded with the "Highest Artistic Level of Performance" prize for her solo recital. At the 8th International Competition for New Music in Orléans, France, Ms. Mineva and composer Vera Ivanova were awarded the "Prix André Chevillion-Yvonne Bonnaud sous l'égide de la Foundation de France" for Ivanova's solo piano piece "Aftertouch," written for Daniela Mineva.
Ms. Mineva maintains an active performing career. She has appeared as orchestral soloist, chamber music collaborator, and solo artist at some of the most prestigious venues in Bulgaria, the U.S., China, Italy, France, Greece, Russia, Germany, Thailand, and Costa Rica, among others. A strong proponent of new music, Ms. Mineva has collaborated with many young and established composers and with new-music ensembles such as Speculum Musica in New York City; Earplay in San Francisco, California; and OSSIA at the Eastman School of Music and Twenty One in Rochester, New York. Dr. Mineva has also served as the president of the International Society for Pianists and Composers in the U.S. from 2011–2018. 
Ms. Mineva has collaborated with many young and well-established composers such as William Bolcom, Lukas Foss, Kaija Saariaho, Libby Larsen, Chen Yi, Bright Sheng, Frederic Rzewski, Julia Wolfe, Krassimir Taskov, Vera Ivanova, and Carlos Sanchez-Gutierrez to name a few. Her first CD, Volume One, presents Daniela's passion for the music of our time and its connection to the past masters. In 2013, the Society of Composers on Capstone Records also featured her recording. Some of her performances have been heard on WXXI 91.5; Bulgarian National Radio; TV-Chanal 1; TV-SAT, Bulgaria; and Radio France Musique. 
As an accomplished and versatile chamber musician, Ms. Mineva has participated in many music festivals and summer programs, including the Tanglewood Music Festival, Institute for Contemporary Music in New York, and the San Daniele International Piano Meeting in Italy. Ms. Mineva's passion for chamber music led to organizing the Humboldt State University Chamber Music Concert Series at Morris Graves Museum in Eureka, California. 
A devoted teacher herself, Dr. Mineva has given master classes and workshops throughout the U.S., Europe, Asia, and North and South America. She has taught at the North Coast Piano Festival, Atlantic Music Festival, Russalka Piano Festival, and the Music and Earth Festival (Bulgaria), to name a few. Currently, she is Professor of Music and Director of Keyboard Studies at Humboldt State University in California, where in 2012 she won the "McCrone Promising Faculty Award." Previously, Dr. Mineva has taught at the Eastman School of Music, where in 2007 she was awarded the "TA Excellence in Teaching" award, and at Concordia University in Chicago, Illinois. In 2015, Dr. Mineva and Professor Guo founded and directed the North Coast Piano Festival, where young pianists from all over the world participate in lessons, master classes, and compete at the North Coast Piano Competition for annual performances at Carnegie Hall. 
Born in Bulgaria, Daniela began piano lessons at the age of 5 with her mother as her first teacher. She graduated from Sofia Music Academy with the Bachelor of Music degree in piano performance and the Master of Music degree in choral conducting. Dr. Mineva also holds the Master of Music degree in piano performance and the Outstanding Graduate Diploma from the University of North Texas, an Artist Certificate from Northwestern University and a Doctor of Musical Arts degree, and the Performer's Certificate from the Eastman School of Music.