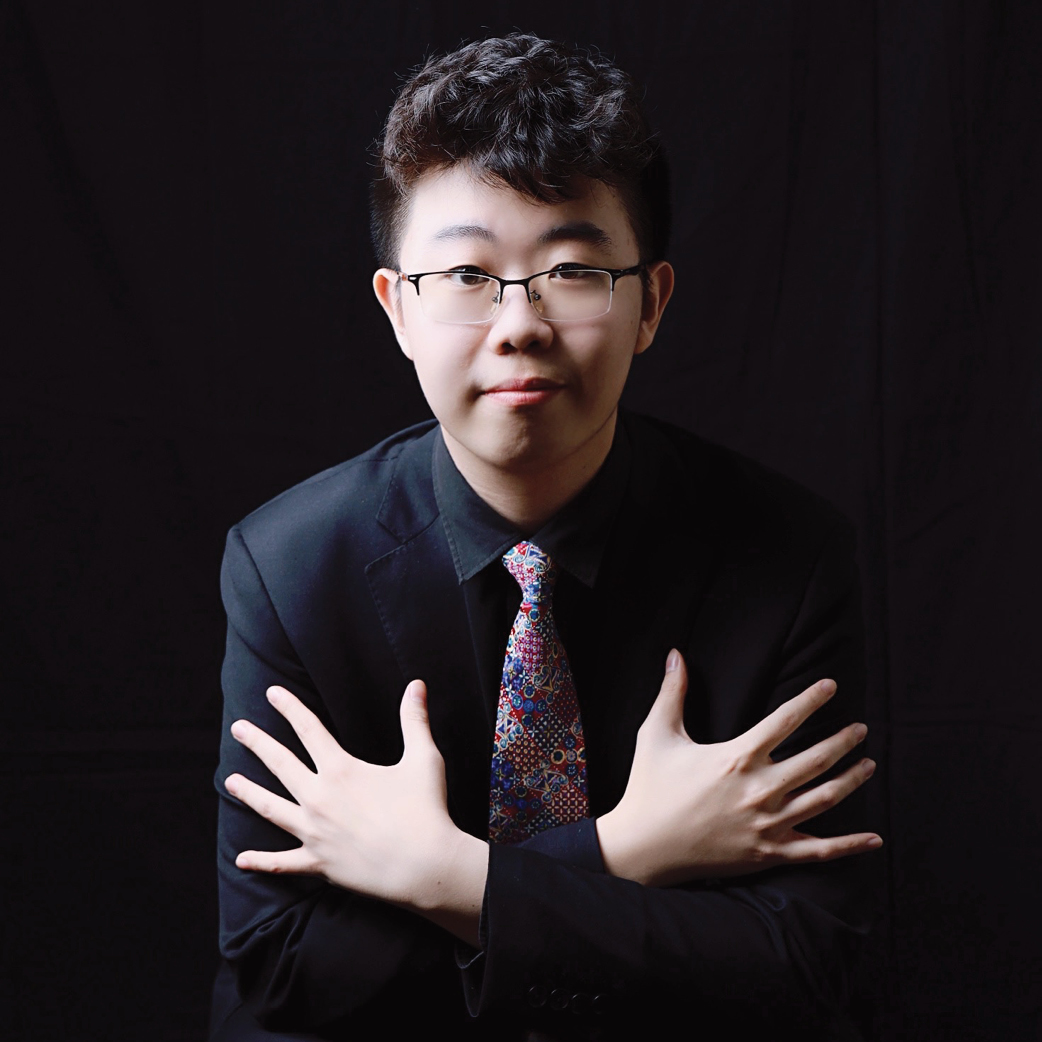 Yanfeng Bai
Pianist Yanfeng Bai is an international prizewinning pianist who recently won several prizes and awards …
… including the 2022 "Best Performance" Prize in the American Paderewski International Piano Competition in 2022; First Prize at the 2017 China Shenzhen International Piano Concerto Competition; Third Prize at the 2018 Grotrian International Piano Competition in Germany; and First Prize at the 2017 Concerto Competition of the Morningside Music Bridge International Music Festival. One of Yanfeng's performances was mentioned in Strings Magazine in 2019 as "gorgeous playing." He was also awarded First Prize in the China Central Television Piano Competition, First Prize at the Fourth Texas State International Piano Festival Classical Artists Development Foundation Emerging Artist Award, First Prize and Special Prize of the national youth piano competition "Kadanza Cup," and was a prizewinner at the International Tchaikovsky Competition for Young Musicians. Mr. Bai has performed as a soloist with numerous orchestras, including the Calgary Philharmonic Orchestra, China Philharmonic Orchestra, the Orchestra Antonio Vivaldi, and the New Russia State Symphony Orchestra. He has given multiple recitals in the U.S., Italy, and China, and has been featured in interviews by OMNI Television in Canada, the World Federation of International Music Competitions, China Central Television, Piano Artistry Magazine, and Parsons Music.
Mr. Bai is a very active performer. He recently performed at the CCTV Silk Road New Year concert; at the legendary designer Frank Gehry's 90th birthday celebration concert in Los Angeles; and at the 100th anniversary celebration of Mr. Xia Zhiqiu, where he performed the world premiere premiere of the piano work Xia Zhiqiu in Southern Sea composed by Cui Shiguang. Other appearances include performences at the Aspen Music Festival, Colorado; the "Genius Piano Art Festival," Italy; Shenzhen Mozart Music Festival, China; the 250th Anniversary Series of Beethoven, Los Angeles; Grand Piano Series in Florida; Zhongshan Concert Hall Liszt Marathon; Central Conservatory of Music Alumni Art Festival; Yangtze River Piano Music Festival; Central Conservatory of Music International Chamber Music Festival; Hubei Yangtze River Piano Art Festival; Pengzhou Citizens Music Festival; Beijing University Student Music Festival; and other exciting performances.
In the 2022/23 season, Mr. Bai will be a guest soloist in China with the Chifeng Symphony Orchestra and Shenzhen Symphony Orchestra. He will also give concerts as a soloist and chamber musician in Los Angeles as well as participate in the Yangtze River Piano artist recital tour in China.
Mr. Bai is currently studying toward a Master's of Music degree at the Colburn School of Music, where he studies with Fabio Bidini. He holds a Bachelor of Music degree from the Colburn School of Music as well as a degree from the China Central Conservatory of Music, where he studied with Jin Zhang before coming to Los Angeles.
Virtual First Round
Bach: Prelude and Fugue from The Well-Tempered Clavier, Book I, No. 17 in A-flat  Major, BWV 862
Chopin: Étude in c-sharp minor, Op. 10, No. 4
Scriabin: Etude in c-sharp minor, Op. 42, No. 5
Beethoven: Sonata No. 12 in A-flat Major, Op. 26
I. Andante con variazioni
II. Scherzo, allegro molto
III. Maestoso andante, marcia funebre sulla morte d'un eroe
IV. Allegro
Rachmaninoff: Prelude in g minor, Op. 23, No. 5
In-Person Second Round
Scriabin: Twelve Études, Op. 8
No. 1 in C-sharp Major: Allegro
No. 2 in f-sharp minor: A capriccio, con forza
No. 3 in b minor: Tempestoso
No. 4 in B Major: Piacevole
No. 5 in E Major: Brioso
No. 6 in A Major: Con grazia
No. 7 in b-flat minor: Presto tenebroso, agitato
No. 8 in A-flat Major: Lento (Tempo rubato)
No. 9 in c-sharp minor: Alla balata
No. 10 in D-flat Major: Allegro
No. 11 in b-flat minor: Andante cantabile
No. 12 in d-sharp minor: Patetico
Carl Vine: Resolve
Paderewski: Nocturne in B-flat Major, Op.16, No. 4
Barber: Sonata in E-flat Major, Op. 26
I. Allegro energico
II. Allegro vivace e leggero
III. Adagio mesto
IV. Fuga: Allegro con spirito
Semifinal Round – Chamber Music
Brahms: Violin Sonata No. 1 in G Major, Op. 78
I. Vivace, ma non troppo
II. Adagio
III. Allegro molto moderato
Final Round
Rachmaninoff: Piano Concerto No. 2 in c minor, Op. 18
I. Moderato
II. Adagio sostenuto—Più animato—Tempo I
III. Allegro scherzando